Enjoy online streaming and priority access to home games
Season ticket holders will be able to watch all Alloa Athletic home league games online at no extra cost for the 2020/21 campaign. This is an important development in ensuring our supporters can watch matches for as long as social distancing measures are in effect. It has also been announced that the Championship Season will begin on 17th October with Championship clubs having voted to play each other three times rather than four.
A further agreement with broadcasters will enable matches to be available for broadcast by the club in the UK and Ireland for the first time for season 2020/21.
Full details on how to watch live streaming of the games will be made available soon. "We are working through the details of how it will work in practice and will update supporters shortly.
Season ticket holders will also get priority access to games once social distancing measures are relaxed but will also have the additional access to online streaming should they not be able to attend games i.e. due to work or family commitments until the end of the season.
"I hope this clarity will provide further incentive to supporters to now buy their season ticket if they can." We thank you in advance for your continued support.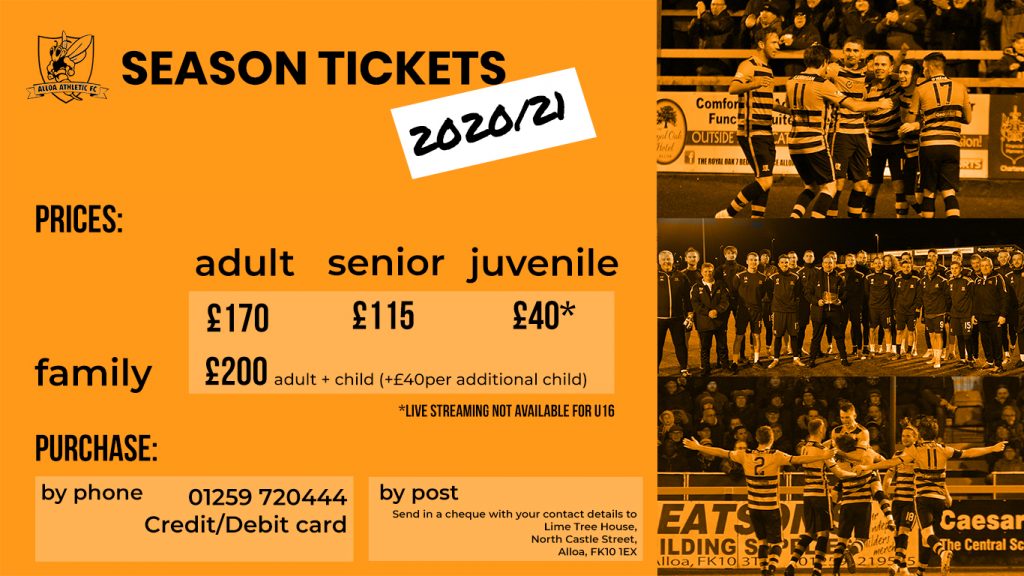 Prices
Adults £170.00 / Senior Citizens (over 65) £115.00 / Juvenile (under16 * please note no live streaming access at this time for juveniles) £40.00
Family £200.00 (Adult + 1 child (£40.00 each additional child)
How to purchase
By Phone – pay over the phone using a credit or debit card by calling Lime Tree House 01259 720444
By Post – Send in a cheque with your contact details to Lime Tree House, North Castle Street, Alloa, FK10 1E