2

-

1

Full Time
This was another crucial victory, remarkably the fourth against Stirling Albion this season, which is the first time either side has won all four league encounters in one season, the last time Alloa won all league games in same season was back in season 1986/87 season when Dom Sullivan was the Alloa manager, although the sides at that time only met three times a season. Manager Allan Maitland still had injury worries prior to this match with six first team players unavailable, prompting him to bring in Declan McAvoy from Hamilton Accies on loan till the end of the season. Stirling Albion took an early lead when Andy Graham headed them in front, but Gary Carroll scored with a top class strike four minutes later. Stirling had a lot of possesion in the second half but just as the game looked to be heading for a 1-1 draw, Alloa again showed their fighting spirit to win the game in the final minute. Jason Thomson was unfortunate to see his effort deflected for a corner and Scott Walker was on hand to head his first goal of the season to win the game for "The Wasps".
---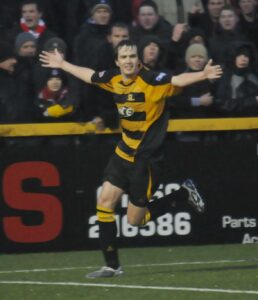 ---
allan maitland after stirling albion victory
Last minute goal again, but to be fair I think Stirling Albion were doing that earlier in the season and we were finding it demoralising but it now seems to be our turn , we have had a few really crucial goals, Saturday obviously and again tonight, I do not know if that is a mark of champions or whatever – we had to rely on young boys again and I was saying to them to play a short corner, near the end, a draw would be a good result but great credit to the boys they still pushed for a winner. Scott Walker has waited all season for his first goal and it was fitting he should score the winner tonight. Our effort was fantastic, Stirling had a lot of the ball especially in the second half as we expected, we allowed that but we defended really well, I thought both centre backs were magnificent. One of the most significant times in the game was to score so quickly after losing an early goal, Gary Carroll's strike was superb – did we deserve to win, we certainly didn't deserve to lose which is probably a better way of putting it, but the spirit at the club is fantastic, the players have been fantastic and you don't score late goals at football matches as often as we have my chance. Jason Thomson made a great run, Jamie Hay was really brave to knock the ball on and Jason was a bit unlucky, we got the corner kick and Scott walker scored, I could not be more proud of the players at the moment, they have given everything that they have got and David mcClune, Mark Brown, Scot Buist and Andy Scott tonight could easily have said "Gaffer I can't play tonight" but they were all out there desperate to play football for this club. Tony Stevenson was taking free kicks in our half because none of none of the other players could be trusted to strike the ball that long without fear of more hamstring problems, Bryan Prunty had to come off but the young boys who came on again never let anyone down. I think it is a crucial result for us, we had six first team regulars still missing tonight and our destiny is in our own hands but slowly and surely we are beginning to take it out of other peoples hands and if we win our home games we will not be far away , we have difficult away games coming up in our next three games against Arbroath, East Fife & Clyde and after that we will finish with three home games and one away game, but if we can keep working hard in our next three games away from home we will not be far away. To take 10 points out of 12 in our last three games giving the injury situation, if I had my full team out in these games and collected 10 points out of 12 I would still have still have thought that was an unbelievable effort, it speaks volumes for the players.
Past Meetings


cinch League 1


cinch League 1


cinch League 1


cinch League 1


cinch League 1


cinch League 1


cinch League 1