1

-

0

Full Time
Alloa Athletic went three points clear at the top of the Irn Bru Second Division after a 1-0 victory over local rivals Stirling Albion. Alloa took the game to Allan Moore's side and after 13 minutes the impressive Andy Scott lobbed Albion keeper Scott Christie for the games only goal. In the second half Stirling Albion came back at "The Wasps" and David Crawford, once again this season showed his worth between the posts. However Alloa themselves had chances to extend their lead and Mark Gilhaney and Iain Russell were unfortunate with efforts later in the game which would have settled the result. Stirling Albion although having a lot of the ball in the second half will be disappointed with their efforts in front of goal. Alloa gave debuts to Kevin Welsh at left back from Hamilton Accies, and later in the game Iain Russell on loan from Morton who replaced Brian Carrigan in the second half, both players can be pleased with their efforts as Alloa Athletic set out to build on their excellent start in the league this season.
 
Alloa Athletic
 
Stirling Albion
1
David Crawford
1
Scott Christie
2
Mark Brown  Bkd 70m
2
Andy Graham
3
Kevin Welsh
3
Ross Forsyth Bkd 48m
4
Scot Buist
4
Craig Young
5
Scott Walker
5
Sean Roycroft Bkd 90m
6
John Grant 
  6
John O'Neil
7
Mark Gilhaney  Bkd 90m
7
Andy Gibson
8
Brown Ferguson
8
Stewart Devine Bkd 77m
9
Brian Carrigan
9
Martin Grehan
10
Scott Agnew
10
David McKenna
11
Andy Scott
11
David O'Brien
 
 
 
 
12
Marc McCafferty

 

12
Scott Robertson
14
Gary Carroll (10) 68m
14
Paul Murphy (4) 56m
15
Hugh Kerr
15
Michael Mullen (7) 73m
16
Iain Russell (9) 68m
16
Nathan Taggart (6) 61m
 
 
 
 
GK
Stephen Hall
18
Myles Hogarth
Referee : Brian Colvin   Asst: Gary Sweeney & Alan Newlands
                                                CROWD – 1,201
1 – 0    Andy Scott       (13 mins)
---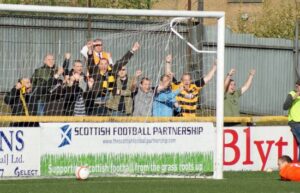 ---
allan maitland after derby victory
I said in my programme notes that the team that can finish above Stirling Albion will win the league and I think today showed that, I thought they were excellent. In the first half I did not think there was anything in it, we scored a goal that I honestly didn't expect us to score against Stirling Albion with just one clearance up the park and a lovely finish from Andy Scott who I thought was outstanding throughout the game and after that in the second half with the changes Stirling Albion made, they forced us back and you have a choice at that stage do you hang on to what you have got or do you have a go? We chose to hang to what we had and we sat probably too deep and allowed Stirling Albion too much of the ball – our goal keeper had a magnificent save down to his right hand side half way through the second half. We changed it by bringing on Gary Carroll and Iain Russell on, that helped us enormously, and got the ball back at their end of the park, the game then became a wee bit more even. It was a great game to win, there was nothing between the sides apart from a magnificent winning goal from Andy Scott. I thought the effort of our players which is all I can judge was fantastic today, adding Iain Russell and Kevin Welsh – Kevin had a great 90 minutes today, so adding the two of them to our squad is a statement of intent. We are sitting top of the league after 5 games, we have done magnificently well and we are going to keep working to try and win each game that we play. We have quality players at this club, this is perhaps the best squad of players I have had in the years I have been here and we are going to try and build on where we are just now.
Past Meetings


cinch League 1


cinch League 1


cinch League 1


cinch League 1