1

-

0

Full Time
A battling display by The Wasps saw them secure full points after a last minute goal by Bryan Prunty won the game and put the team up into second position in the league. Arbroath were very difficult to break down, even when their striker Steven Hislop was sent off just before half-time, the ten men played courageously and would feel aggrieved to have now lost their last two games to goals in the final minutes. Bryan Prunty looked to have put the home side ahead earlier in the second half, but his overhead kick was disallowed for high feet. Chris Townsley also was unlucky to see his effort come back down off the cross bar and bounce to safety. However it was Bryan Prunty who sealed the victory with a last minute strike after David Gormley had been fouled.
---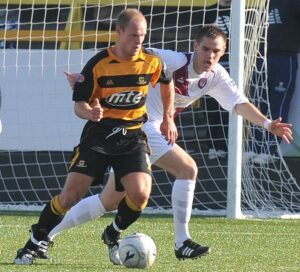 ---
allan maitland after arbroath victory
It was a magnificent result for us, the only thing is it is unusual for us to be in this position where we are so far up the league and I think what we showed today was elements of desperation in our game, desperation to win it and by doing that we did not play with our heads, I felt we became too narrow in the game when they went down to ten men, we didn't pass the ball well enough and we were laboured in our play, plenty of effort and I think the effort and the application and determination to win, in itself was enough to deserve to win the game but we need to do a lot better than that. The games we have struggled already this season against Stenhousemuir, Dumbarton and of course the first game against Arbroath have all been against teams that have made it difficult and sat in and today that is exactly what happened and we struggled with that. However, I thought that Bryan Prunty's first goal looked like a great goal for me and am disappointed that it didn't count but Bryan Prunty has been brought to this club to try and score goals for us and make a difference and today he was the difference. You have to give credit to Arbroath because I thought whether it was eleven men or ten men they defended heroically at times but we didn't put them under enough pressure – you have to remember they also had a game on Wednesday night and we thought they would wilt but they didn't – they were excellent, we gave them encouragement by not having enough chances in the game. However, our goalkeeper has now had 14 shutouts this season and that's from a team that lost 55 goals last season. It is always said if you have a shutout you have a chance in a game of football, and Mark Brown has also been a part of that. Today was a day when our goalie deserves praise for almost doing nothing because he had nothing to do but it is another good day for him, his target was 14 shutouts for the season and he has already achieved that. I think the confidence and belief that comes to a club when the team play until the final minute and score a winning goal is massive. You score last minute goals because you are trying to win games of football. We are now at the stage when we believe we will go on and win games, there is a belief in our club they are on a high after that because they have won and the big things for us are that we go above Stirling Albion and its another game played and won. Mid weeks games are going to count just shortly and I think we have got a good squad and a player in Bryan Prunty that is capable of scoring goals out of nothing and we want to win these games which will be vital come the end of the season.
Past Meetings


cinch League 1


cinch League 1


cinch League 1


cinch League 1


cinch League 1


cinch League 1