2

-

3

Full Time
Airdrie United came back to snatch a victory in the final minute of Saturday's game against "The Wasps" to leave the home side wondering, how did they lose that game? The fact is Alloa Athletic need to be more ruthless and close out games, having started the game poorly the home side, after missing chances in the first half, took charge in the second period, Stuart Noble scoring his third goal in three games and Jim Lister scoring a header which should have been the winning goal. The Wasps had other opportunities to increase their lead and might have been given a penalty a decision which could have changed the game, Alloa were dominant and should have went on to increase their lead. The introduction of ex Alloa star Jamie Stevenson did however change the game, Airdrie were now having their share of possession and Alloa started to play out time. If losing a goal in the 89th minute was not bad enough, Airdrie struck again in the final minute to win all three points – the manner of the defeat the most disturbing aspect for the Alloa support.
---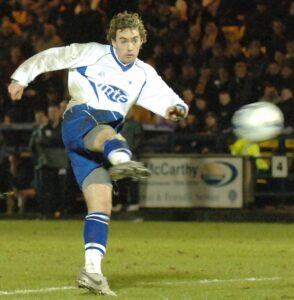 ---
allan maitland after airdrie utd game
There is absolutely no excuse for what has happened to us today and I am absolutely livid. We gave away the first goal at a corner kick , it took us about ten minutes to recover from that we got ourselves back into the game and by the end of the first half we should have been back on level terms but we missed two sitters. In the second half we worked really hard for 35 minutes and scored two goals we dominated the game, we put them under a lot of pressure and then what happens – we just stop playing – did we think that was it finished? In the last five or ten minutes we decided that we were just going to pass the ball and stop pressing it – we allowed them back into the game – they score – and if that is not bad enough we let them score a third goal. At the moment it is taking us at least three goals to win games of football – we have played two games here in the last three weeks we have scored four goals and got one point – that is hopeless – I can't even start to tell you how disappointed I am in what happened in the last five minutes of the game and I don't think we have anybody to blame but ourselves. Good luck to Airdrie they kept going until the end but the game should have been out of sight and it shouldn't have mattered if Airdrie scored in the last five minutes or not. I am absolutely gutted – if we are not going to work – if we have players that are not going to work they are not going to be here. It was a game we played really well but then decided to stop. You couldn't afford to do that in a Sunday league game – so what makes anybody think we can do that at Alloa football club I have no idea. We stopped and decided we would just pass the ball and play out the game instead of pushing the ball forward into Jim Lister who was causing all sorts of problems. We were getting in behind him with Stuart Noble on one side and Jinky on the other – instead of looking for the third killer goal we decided to sit in – and that is hopeless. No matter how much I try we have not managed to change it – we have good players at this club but they are going to have to learn and learn quickly the idea that we are going to win the league now is completely blown – if we had won this week and next week against Livingstone we have the change of going top – that's now gone and what we now need to aim to finish in that top four and the second thing is to make sure we are away from the bottom end. It has been a terrible way for Alloa fans to have their Christmas ruined – the last five minutes was awful.
Past Meetings


cinch League 1


Premier Sports Cup